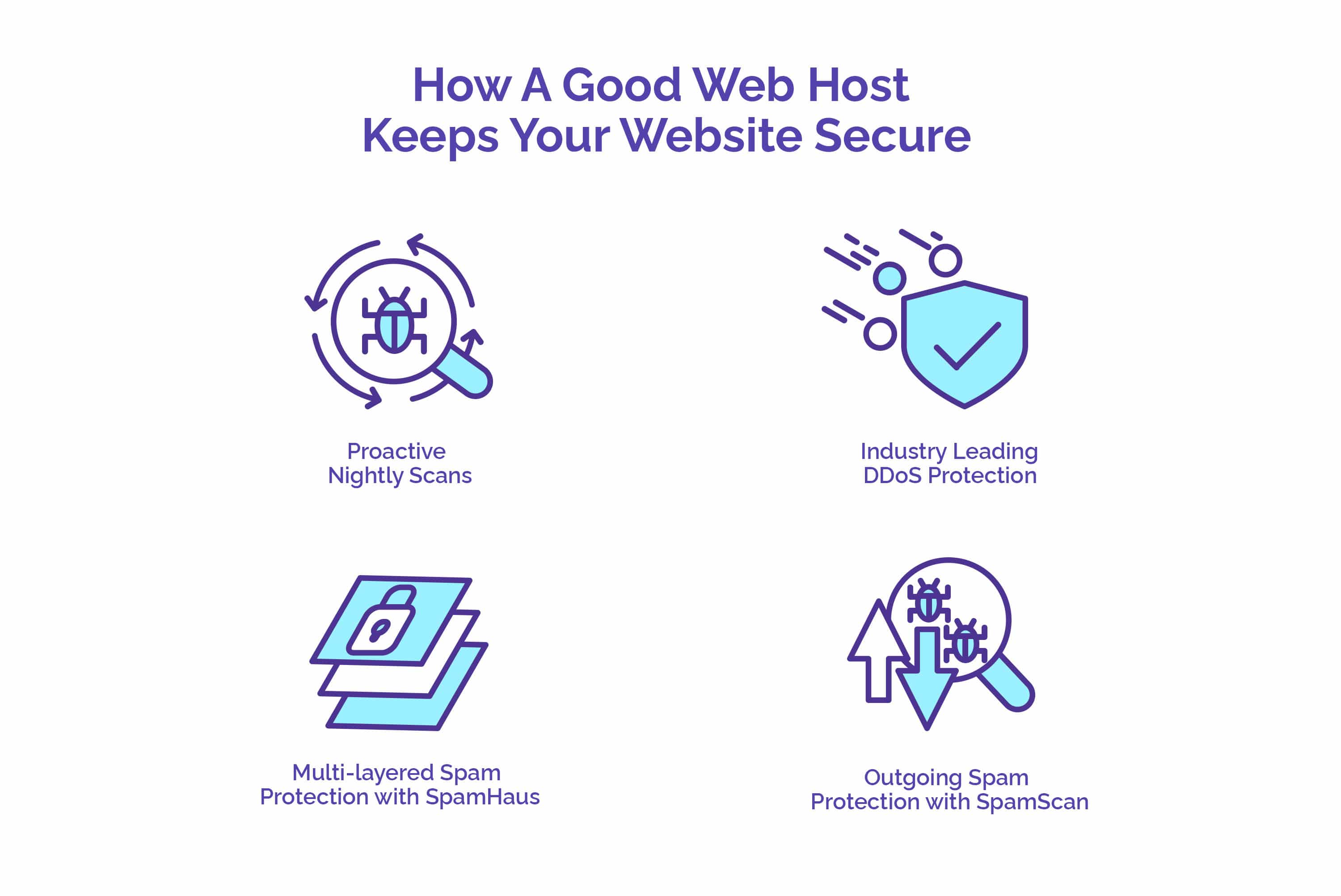 Online security has become a serious issue in the news recently. Huge security breaches including Equifax, Deloitte, Whole Foods, Uber, eBay, and even the U.S. Security and Exchange Commission occurred in 2017. In the new year, it is important to consider how all websites can be more secure to avoid repeating the mistakes of 2017. After all, with these large hacks becoming commonplace, owners of websites big and small must begin to take security seriously.
Some website owners may not realize that their web host can actually take steps on their end to help secure customers' websites. This is simply one more reason that choosing a reliable web host is key for all website owners.
Proactive nightly malware scans
Malware is known to infect outdated versions of content management systems like WordPress, Joomla, Drupal, and even other software including forums and e-commerce solutions. This malware can slow down your website, destroy your website, or even be the source of illegal activity. YourLastHost takes a proactive approach to malware detection with nightly malware scans.
How it works: Our malware scanner automatically inspects every file on our servers to ensure that there is no malware present. If it finds malware present, it automatically places the file in a quarantine zone and alerts our administrators. At this point, our administrators reach out to clients and offer to help clean up the website and provide further security instructions based on the specific situation.
Industry-leading DDoS protection
DDoS attacks are a common attack form where millions of requests are sent to a server in order to overwhelm the server, with the goal of bringing it offline. Often, these requests come from many different locations. YourLastHost's systems are designed with DDoS protection in mind.
How it works: All YourLastHost servers sit behind a 10+ GBPS DDoS filter. The DDoS filtering equipment finds patterns in requests and isolates the legitimate website requests from the malicious requests. YourLastHost has successfully kept websites online even after DDoS attacks as large as 500GBPS.
Multi-layered spam protection with SpamHaus 
No one likes to receive spam email messages. Unfortunately, spam messages account for 90% of all email traffic. YourLastHost targets spam at the source by using a two-stage filtering technique.
How it works: Emails with a sender that has been reported on a worldwide block list are automatically declined with a bounce message. Emails that are questionable have their contents automatically checked using a combination of bayesian filters and SpamHaus's block lists. With this setup, we achieve a 299/300 (over 99%) catch rate for stopping spam emails.
Outgoing spam protection with SpamScan 
Nothing is more annoying than trying to send an email and it simply not delivering to your recipient. In shared and reseller hosting environments, this is often due to another person on your server sending our spam and your server to be blocked due to the spam. YourLastHost targets outgoing spam by using several techniques.
How it works: YourLastHost proactively monitors its servers' reputation to ensure that they are not blocked from over 250 recognized block lists. YourLastHost also monitors outgoing email quantities, email sending scripts, and sets limits to deter abuse.
YourLastHost employs a myriad of tools to keep your website online and secure. While many website owners may not recognize what goes on behind the scenes, administrators at YourLastHost are working 24/7 to ensure that clients receive the highest level of service.