WHMCS
WHMCS is somewhat similar to CMS system for hosting providers. A one-stop solution for all hosting resellers, WHMCS makes business dealing easier and efficient. From managing clients, organizing bills and answering support tickets, there is a lot you can do with WHMCS web hosting. The following are some of the benefits you can avail through the WHMCS:
1- Customizable and User-Friendly
People who do not have a good knowledge of WHMCS can easily use the dashboard. An option of customizing the entire dashboard is also available, hence making WHMCS user-friendly.
2- Automation and Billing
Several automation and billing services can be availed including:
– Invoice and Bill in several different currencies
– Add all-inclusive taxing
– Offer products
– Create promo codes
3- Customer Support
Customers are able to raise tickets and register complaints, a huge benefit to your business that allows you to understand if your customers are satisfied or not.
WHMCS Bridge
The WHMCS Bridge is a plugin integrating the entire WHMCS billing and support software in WordPress. Not only does that allow you to design it according to your needs, it also offers a consistent and seamless user experience to all your customers.
When you use the plugin integration, you do not have to style your WHMCS installation as the plugin possesses a theme inheritance feature. This feature further ensures that your WHMCS installation feels and looks like your WordPress site.
Additionally, WHMCS Bridge offers:
1- S market connect: With the full support of WHMCS market connect, you can seamlessly and quickly resell products through WHMCS (via Word Press) using the WHMCS marketplace.
2- WHMCS friendly URL'S support: Instead of basic URLs, you can upgrade and support WHMCS to 'Full Friendly Rewrite'.
3- Pretty Permalinks: Gain support of all download and knowledge based links:
– SEO Titles
-Enhanced Visual Integration
– Custom Templates
– Single sign on
– Multi lingual support from WHMCS
– Resolution patch for IP address
– Choosing your own WHMCS portal according to your needs
– Shortcodes
WHMPres
WHMCS can easily be integrated with WordPress by using the WHMCS Bridge plugin called iPlugin. A freemium type of plugin, it will enable you to bridge your WHMCS to WordPress, opening doors to features like multi-lingual WHMCS support, single sign on and efficient support for WHMCS market connect.
The initial step is to log into the existing WordPress Dashboard, install WHMCS plugin and get it activated in your WordPress.  The next step is to move to plugin settings where you add your WHMCS  URL before clicking save.
When you get the WHMPress, you can get access to all primary integrations that will benefit you in web hosting. Alongside, you can get all premium WordPress plugins that provide efficient aid in creating and maintaining a hosting website.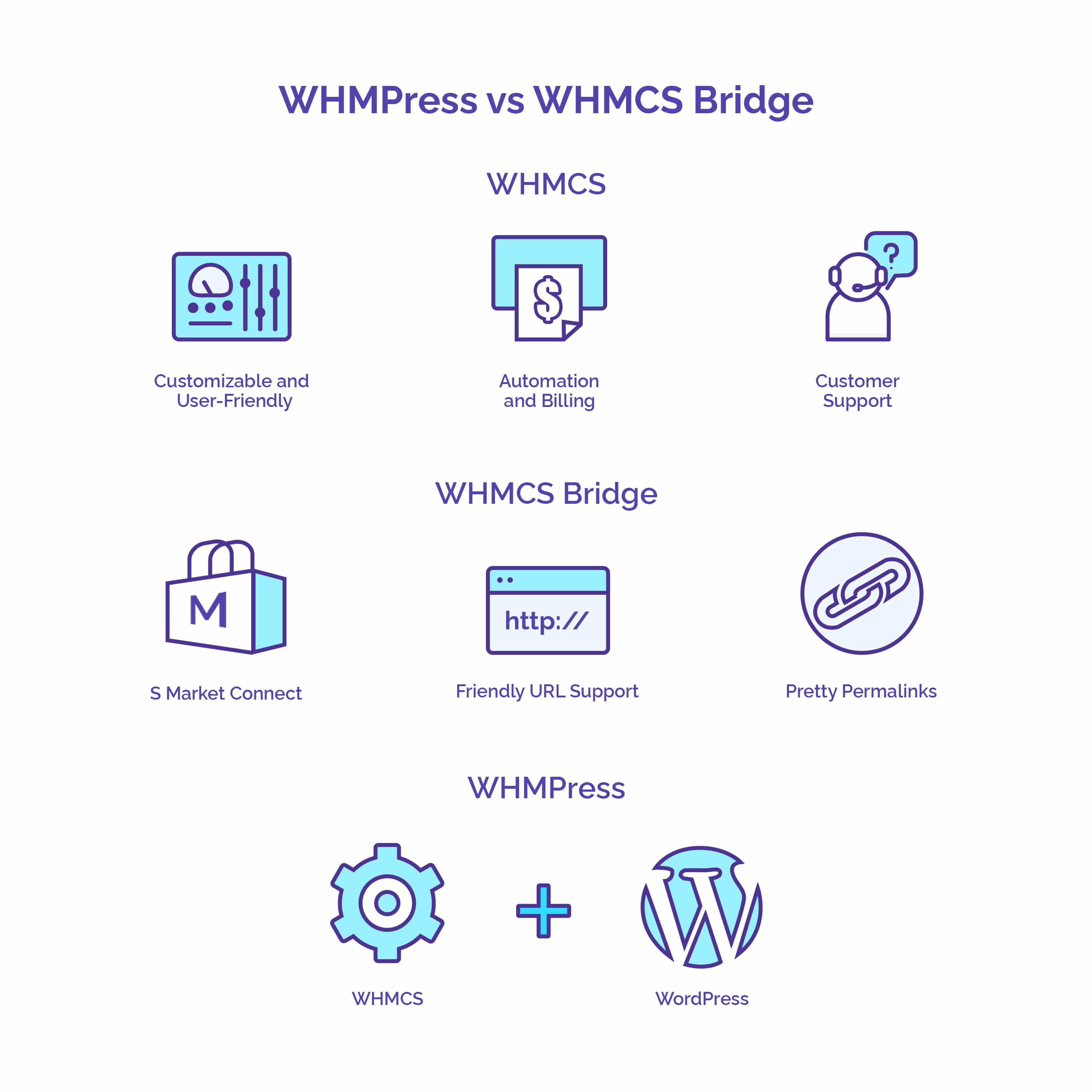 Bottom Line
Considering the infinite amount of benefits of web hosting that you get with WHMCS, WHMPress can further add up to make the hosting experience even better. From designing the ideal web hosting page to modifying themes according to your requirements, both these integrations are a must for your web hosting venture.